by Admin on Jan.03, 2010, under Virtual 3D World

Well, ok so as a beginner, you're not going to be capable of creating as beautiful a model as the one above just yet, that's something to aspire to as your skills develop. (If you want to just do animation with already created models you can get for free, that article is coming next.) In the previous articles I gave a quick overview of the programs I recommend for those wishing to delve into virtual 3D world creation, the culmination of my articles will in the end branch out to real-time game creation systems and highly realistic 3D movies, ie rendered virtual 3D worlds versus realtime interactive 3D worlds.

Please bear in mind that as I write a new article, many times I go back and make additions, sometimes major, to past articles when things pop-up in my mind that I think would have been useful to have in previous articles and sometimes I may create a bran new intermediate go-between to bridge past articles. Hopefully I'll remember to post links to such new 'bridge' articles in the articles that it is meant to bridge together. Ok, now I guess we might as well build some bridges!
Where do you start? Well unless you want to write your own C++ program to draw your 3D data through code directly I suggest we start with some nice easy to use 3D modeling applications. Here's what I recommend you try out:
CB MODEL PRO


The nice part about this program is that it is both very easy to use for a beginner and it also makes it easy to create and export a texture with your model which makes everything much more fun from the get-go. Here's a pretty good youtube demo tutorial with it (don't worry about the last part of video where he is taking the produced 3D model and importing it into a sample 3D world realtime engine called EduSim)
CB Model Pro intro vid
You can download a 15-day fully functional version here CB MODEL PRO Download
Archipelis


Another very nice and rewarding program letting you create 3D objects from drawings or even photographs, I'll share some similar ones to this and some open source. Here's an Archipelis quick demo:

But at $38 and British pounds sterling at that, and it seems there might not even be a crippled functions trail version anymore, it might be too expensive of a toy to splurge on so here's some alternatives:
SHAPESHOP


It's completely FREE so download and try it. Here's a demo video with it:ShapeShop3D demo
SmoothTeddy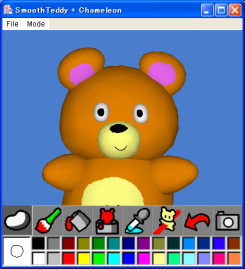 Click on the SmoothTeddy image to go to the author's website and download the program, it's based on JAVA so you may need to check you have JAVA installed, link to JAVA is there also if needed. SmoothTeddy is simple and sweet as the name implies, it's a great sketch based 3D modeling tool. Interestingly, it is unique among small programs of its kind in that it provides a hierarhical joint structure, so you can use it for animation. If you like SmoothTeddy, I suggest you check out fibermesh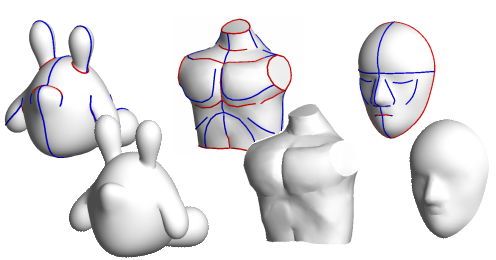 Aartform Curvy 3D


Aartform Curvy 3D is a great program for "Artists" who want to delve into 3D. If you can'd draw at all, you might be better off with CB Model Pro but for anyone with 'some' artistic talent, you will find Curvy3D very enjoyable. There is a demo which is likely crippled and just to test out your graphics card, you can download it here, the full version costs $85.
After you familiarize yourself with some or all of the above mentioned programs, you will be able to better appreciate the next articles in these virtual 3D world series. Some of you may wonder why I haven't mentioned on this page such programs as Moi3D, Wings 3D, Luxology Modo, SketchUP, FormZ, Bonzai3d, Silo, AC3D, Electric Image Amorphium, Metasequoia etc…well all in good time I assure you, the above programs I mentioned I believe are the BEST for a real beginner. I think some of the other programs might be a little too complex at first and we wouldn't want to scare anyone away! (We need to cook the frog slowly as they say…)
Now, lets say after trying out some of these programs you decide you're not interested in being a 3D modeler but you think you might be hot stuff as a 3D animator, you got things in your head, movies you want to create in 3D but you want to play the director and just tell everything what to do and if Steven Spielberg doesn't have to create his actors why should you!? right? Well then the next article is for you 3D directors, where to find your actors and where to get them cheap or free.
:2D to 3D, 2d23D, 3d model, 3d modeling, 3dsmax, 4d, lightwave, maya, modo, photo model, silo, sketchup, wings 3d, wings3d