by Admin on Jan.16, 2010, under Virtual 3D World
I will be adding various worthy 3d images, artistic yet photo realistic (ie lighting textures etc)….. for now here's some nice stuff from good 'ol PovRay (I'll be adding some from finalrender, fryrenderer, and others not sure if to same page yet..) :
The images presented on this page show a selection of the types of art that can be
created using POV-Ray.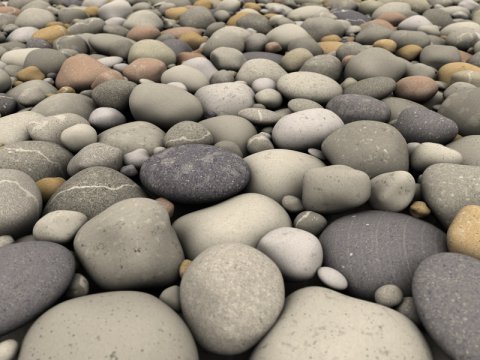 Pebbles
by Jonathan Hunt

This POV-Ray picture of a beach of pebbles was generated entirely using POV code. No modelers were used at all. The image features radiosity and focal blur to give it that realistic feel, and took 4.5 days to render on an Athlon 5600+.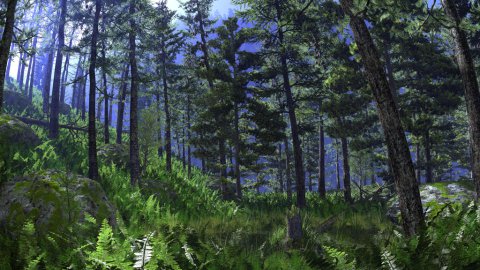 Boreal
by Norbert Kern

Study in atmospheric media and in different ways of "planting" using the trace command.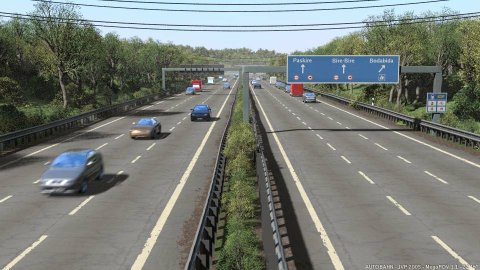 Autobahn WIP
by Jaime Vives Piqueres

A work in progress rendering of an Autobahn.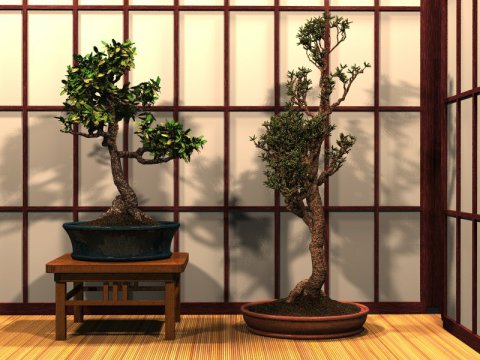 Bonsais
by Jaime Vives Piqueres

My lame attempt at a tree macro resulted in some nice bonsais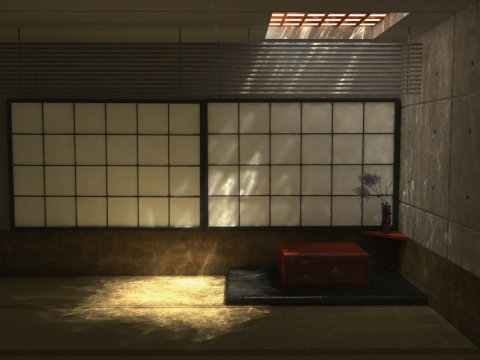 Chado
by Norbert Kern

If I should say a single term which expresses "Spirit of Asia" best, I would take "spirituality". All today's world religions date from Asia for example. For my entry I chose a visualisation of Chado, the (japanese) way of tea, a Zen Buddhism concept.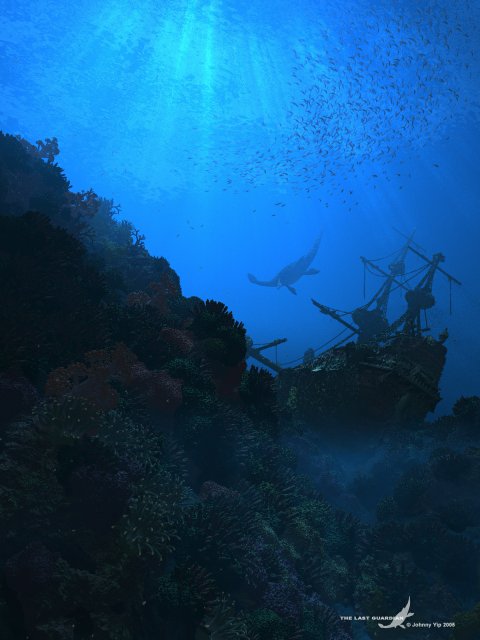 The Last Guardian
by Johnny Yip

In a place where time stands still, a lonely beast takes guard over the sacred water; it is the last creature of its kind, living proudly within the realm of fantasy and reality.

This image won first place in POVCOMP 2004.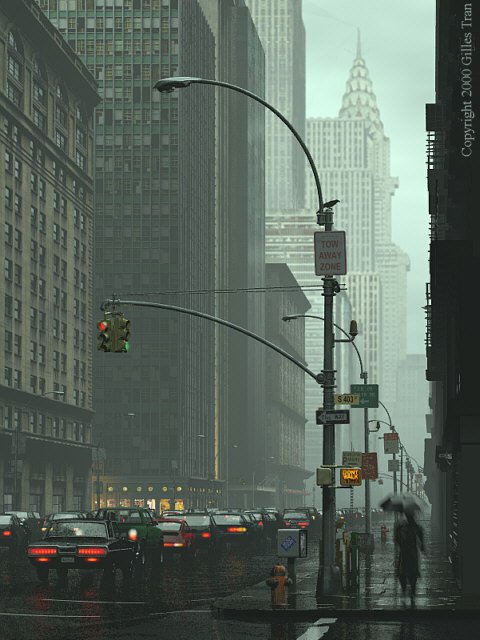 The Wet Bird
by Gilles Tran

March-April 2001 IRTC Winner.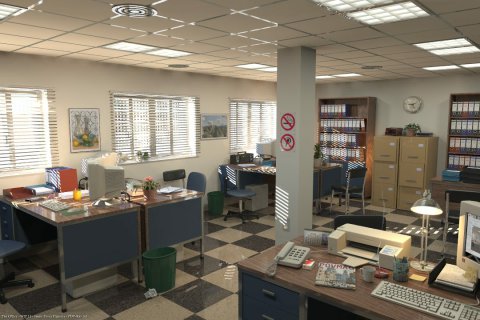 Office
by Jaime Vives Piqueres

The average office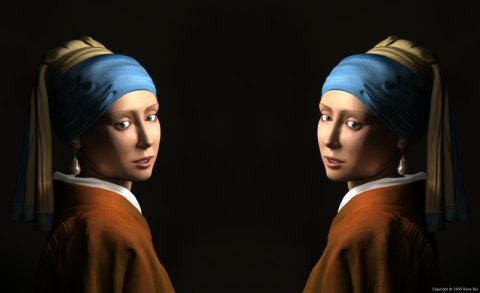 Twin Girls With A Pearl Earring
by Rene Bui

Art memories after Jan Vermeer – Girl With A Pearl Earring (1665-1666).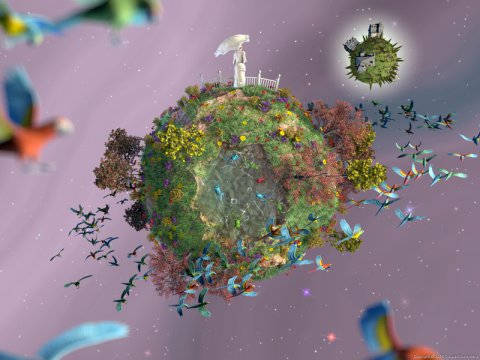 Victoria's World
by Douglas Eichenberg

A surreal take on 'Christina's World'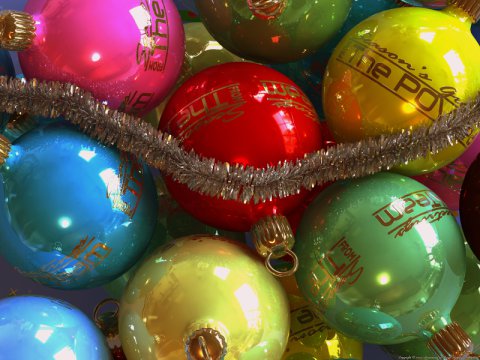 Christmas Baubles
by Jaime Vives Piqueres

Highly reflective multi-colored glass baubles inscribed in gold lettering with the text 'Season's Greetings from the POV-Team'. Artwork by Jaime Vives Piqueres and the POV-Team.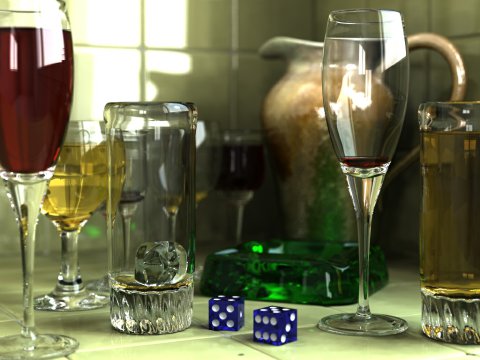 Glasses
by Gilles Tran

Still life featuring pitchers and glasses.
Car Study
by René Bui

Work-in-progress rendering of a Nissan Micra modelled in Wings 3d (see this newsgroup thread).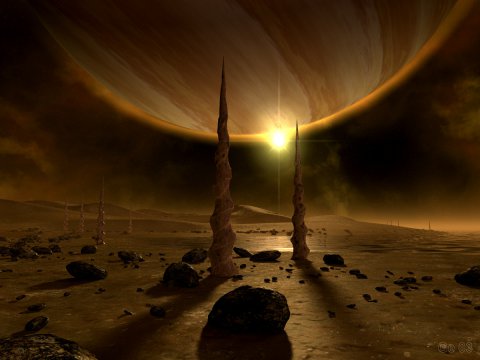 Distant Shores
by Christoph Gerber

Made for the IRTC (topic "future"). The horn is from Renderosity freestuff. Background made with galaxy.inc by Chris Colefax and sunflare made with nkflare.inc by Nathan Kopp.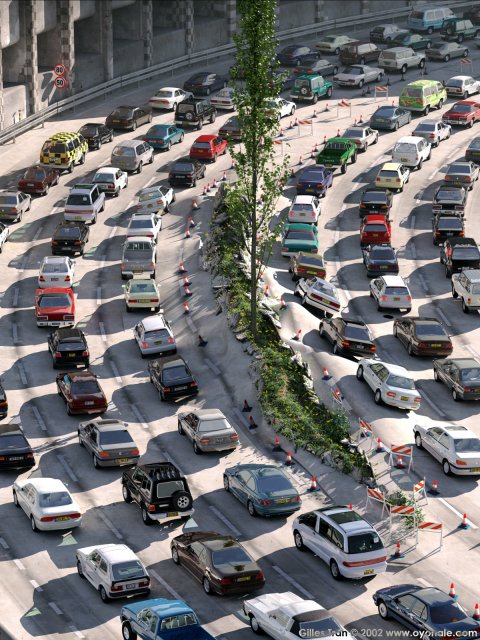 The Accident
by Gilles Tran

Xfrog plants, commercial car models, CSG, road modeled in Rhino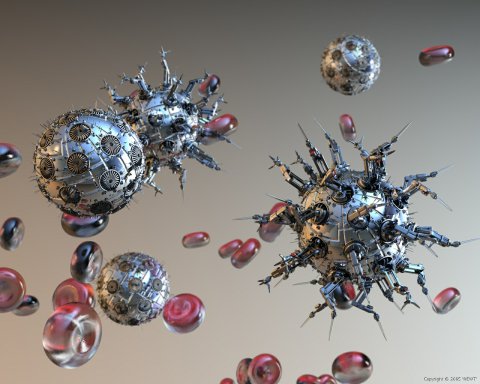 Dissolution
by 'Newt'

Intruders floating around in a bloodstream.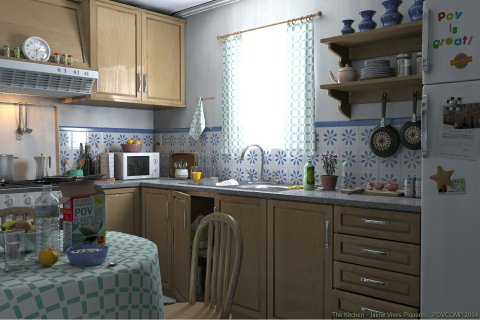 The Kitchen
by Jaime Vives Piqueres

Just a little average kitchen.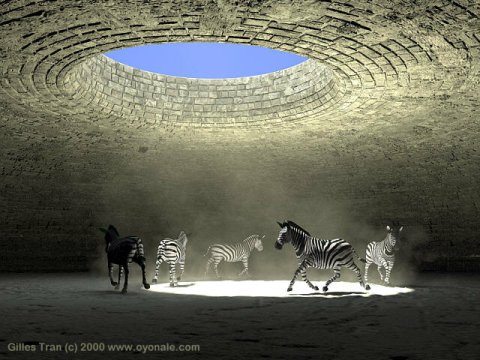 The Prisoners
by Gilles Tran

Poser zebras and CSG-built room.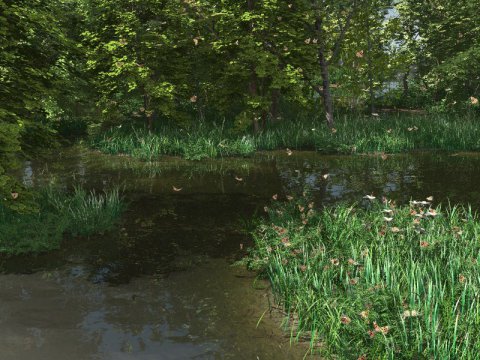 Warm Up
by Norbert Kern

Morningtime: a swarm of butterflies is warming up near a small arm of a river. Generally butterflies are only able to fly at a body temperature of 30°c or above. Once they are flying, they can keep up their body temperature. Painted Ladies are the most widely distributed butterflies in the world and can be found on all continents except Australia and Antarctica. Occasionally the butterflies make mass migrations in search of a new habitat. And perhaps sometimes a swarm can be seen at a sunlit meadow warming up …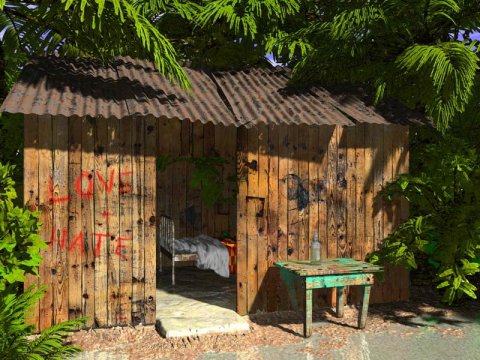 Virtual Joy of Life
by Tom Aust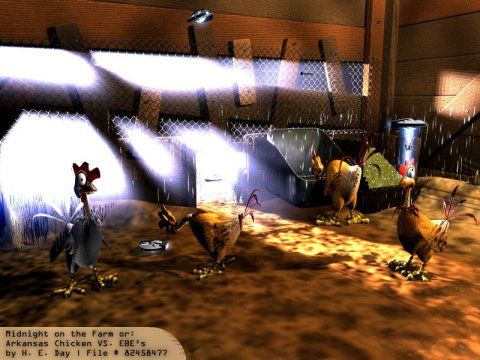 Midnight on the Farm
by H.E. Day

In the middle of the night, they came. Probably the first sign of their arrival was the extra iron nail that Farmer Ged had absentmindedly left in the coop after repairing the chicken wire. Not that the nail was there, but that it was hovering 5 feet off the ground, spinning slowly …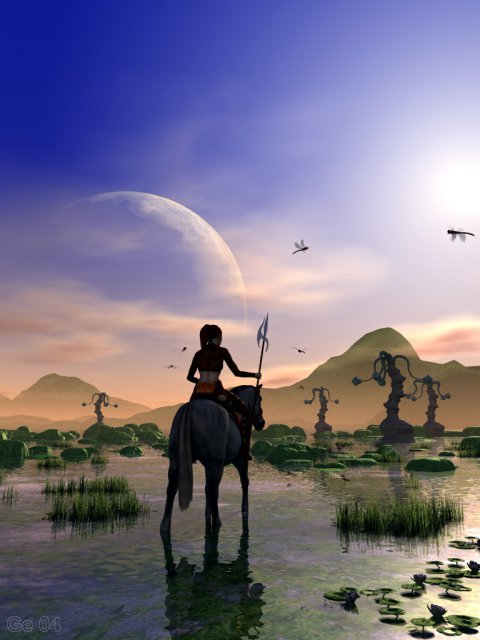 Swamp World
by Christoph Gerber

Based on an image by Scott King. PodTree by Webdancer and waterlillies from toucan.co.jp. Rider and horse Poser 4.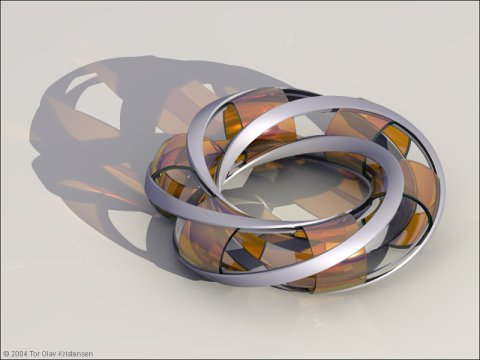 Villarceau Circles
by Tor Olav Kristensen

For every point on a torus one can draw four different circles through it that all lie on the surface of the torus. Two of these four circles are called Villarceau circles. The four narrow pairs of bands in this image follows such Villarceau circles. All the shapes in this image are made with Constructive Solid Geometry operations with tori only (except for the ground plane of course).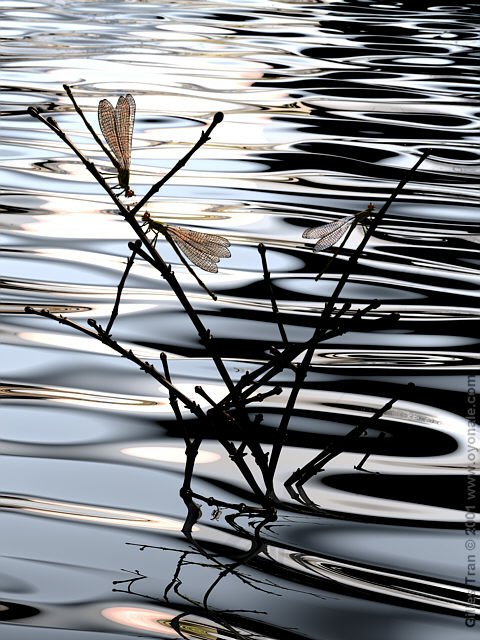 The Lovers
by Gilles Tran

Dragonflies modeled in Rhino and isosurfaces for the water and the twigs. Postprocessed focal blur.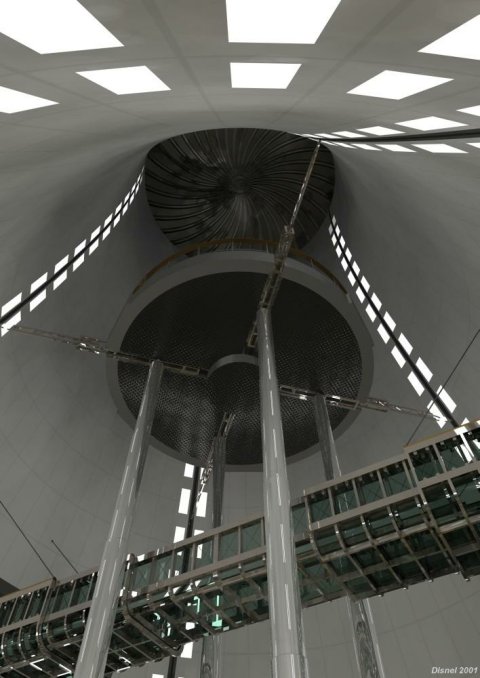 Cooling Tower
by Vaclav Cermak

Representative building created from old cooling tower. This image shows top part of main hall containing moving platform for spectators and iris door closing the tower. More images, including exterior ones, are on my website. This is my school project.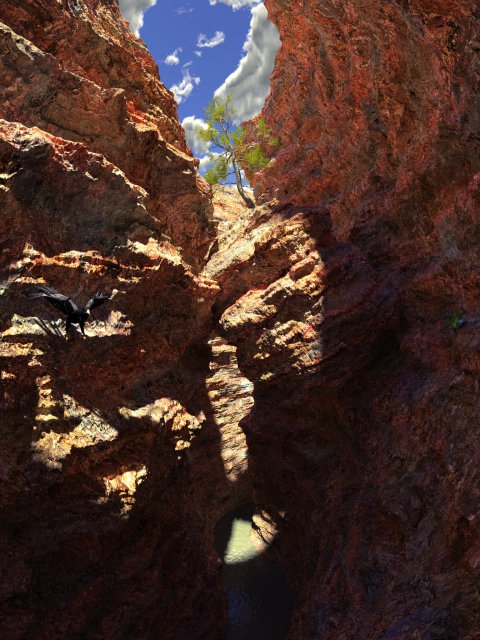 The Lizard
by Norbert Kern

A sharp decay in lifetime expectance of the lizard (barely visible on the right) is caused by an eagle. The scene is located within a gorge (a natural decay by itself) and there is a rock wedged between the gorge walls, which hinder the rock from further decay in height.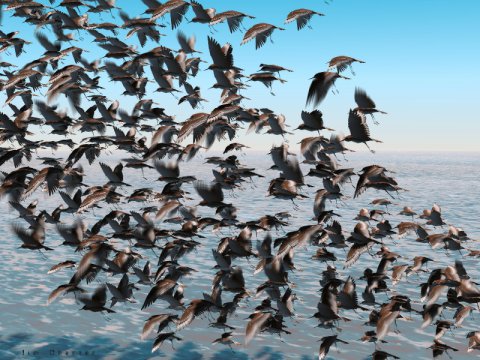 Shorebirds
by Jim Charter

Wildlife inhabiting the boundary zone between land and sea.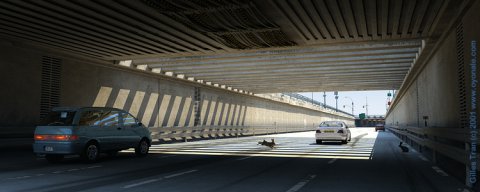 Call of the Wild
by Gilles Tran

Poser rabbits, commercial car models and CSG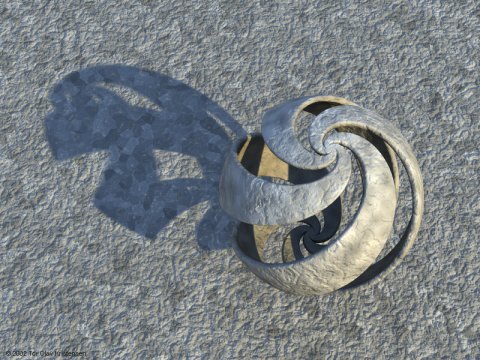 Almost Sphere Spirals
by Tor Olav Kristensen

An isosurface shape inspired by M.C. Escher's "Sphere Spirals" ("Bolspiralen") woodcut print from 1958. The edges of the four spiraling bands on the sphere can be formed by an inverse stereographic projection of eight infinite logarithmic spirals in a complex plane tangent to a Riemann Sphere onto it's surface. I found some useful information about this shape here.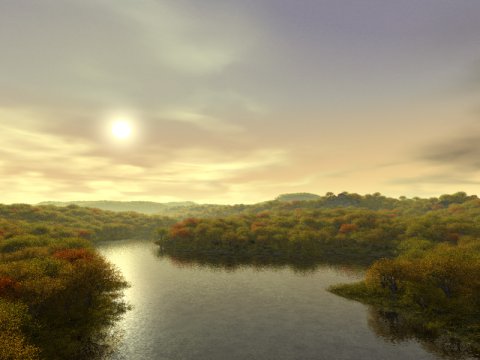 Evening at the River
by Christoph Gerber

Taking advantage of POV-Ray's clever memory management for copies of meshes, this one has more than 12000 oak trees. The trees are made with Forester Arboretrum by Stephen Dartnall. Sky is scattering media.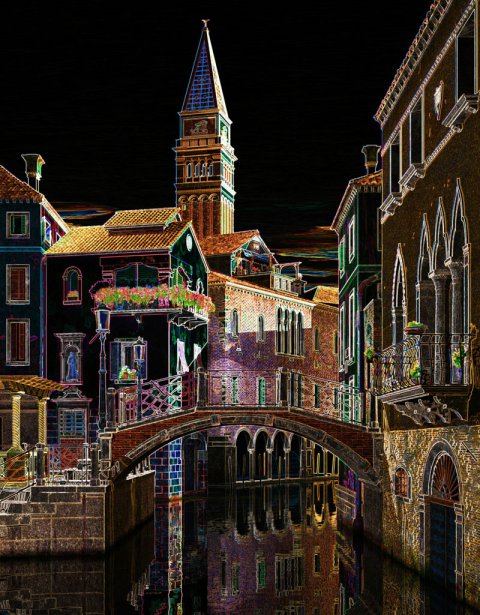 Venice in Neon
by Mark Slone

An imagined canal in Venice, Italy, enhanced to glow as if constructed of neon lights.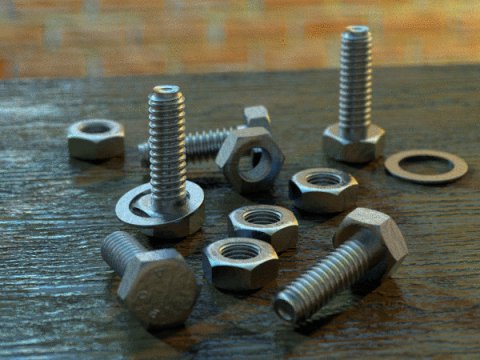 Still with Bolts
by Jaime Vives Piqueres

Serious test for the "micronormals + focal_blur" technique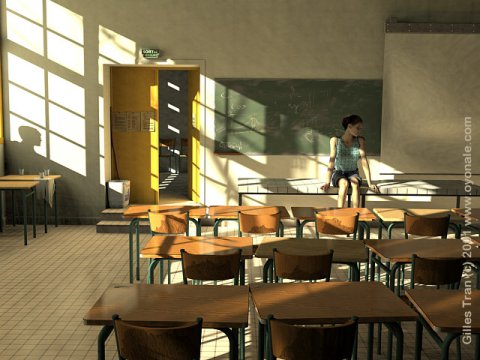 The Classroom
by Gilles Tran

Follow the link above to see how this image was created.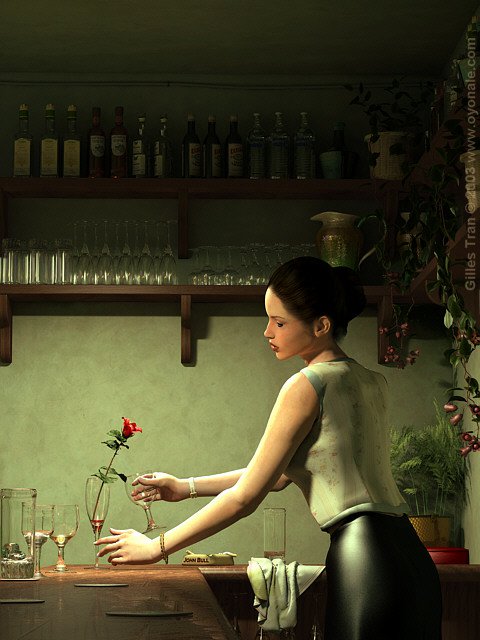 Closing Time
by Gilles Tran

Poser character, Xfrog plants, CSG, props modeled in Rhino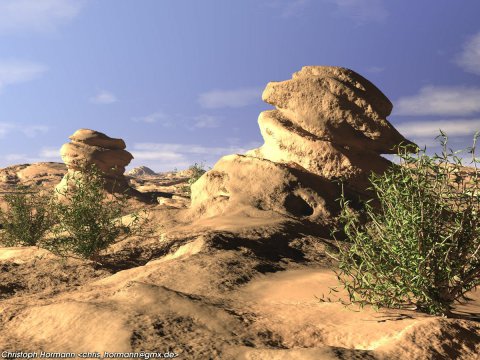 The Eye
by Christoph Hormann

Isosurface landscape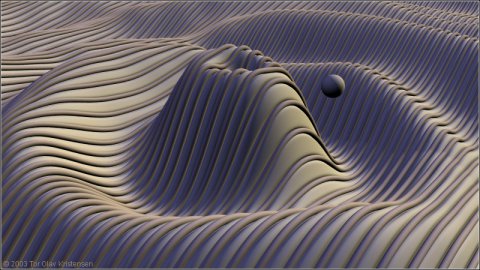 Lonely Sphere
by Tor Olav Kristensen

The "hills" and the "tubes" that follows the smooth "grooves" in it are made with 2 isosurfaces. The basis function for the "terrain" in this image is a "sombrero" function that has been displaced vertically by a noise function. The grooves are made by subtracting the function for the "tubes" from the function for the "hills" with the help of a "blobbing" function; the hyperbolic tangent function. The tanh() function has a S-shape that is similar to the shape of the Sigmoid function. Here are two relevant links: [1] [2].
LOTW 040723
by Jaime Vives Piqueres

Randomly generated landscape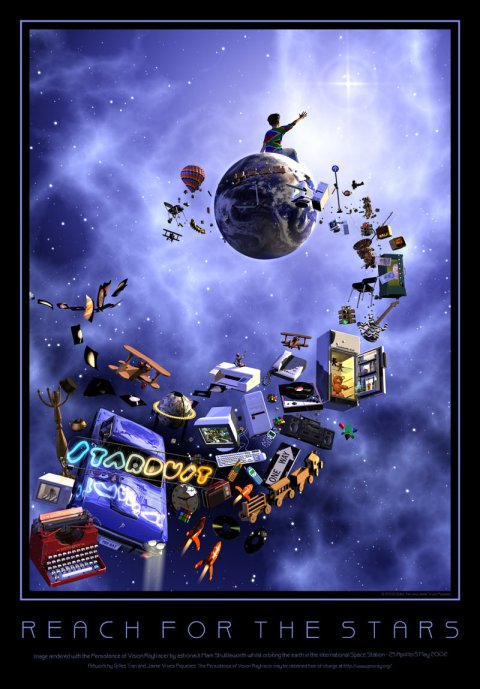 Reach for the Stars
by Gilles Tran and Jaime Vives Piqueres

This image was rendered by Mark Shuttleworth whilst orbiting earth in the International Space Station. If you are interested you can read the full story about how it came to be.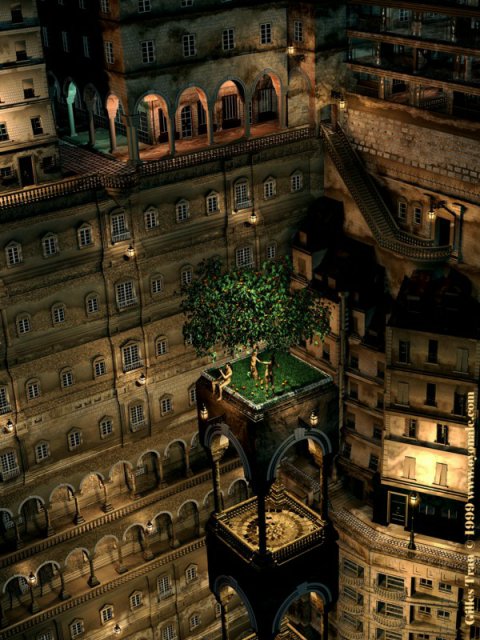 Harvest Time
by Gilles Tran

This image won the IRTC competition of November – December 1999, "Gardens" topic.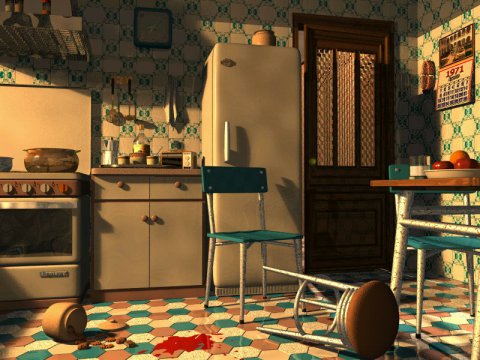 Travieso
by Jaime Vives Piqueres

This image is a memory from my childhood which, casually, happens on the kitchen. This imaginary snapshot is taken few minutes after a "headfirst" fall, many years ago.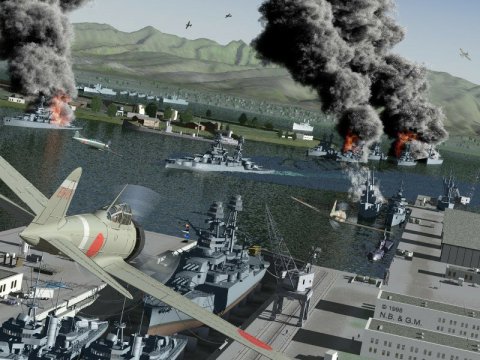 First Strike at Pearl
by N.B. and Glenn McCarter

Winner of the "First Encounter" round of the IRTC (November-December 1998)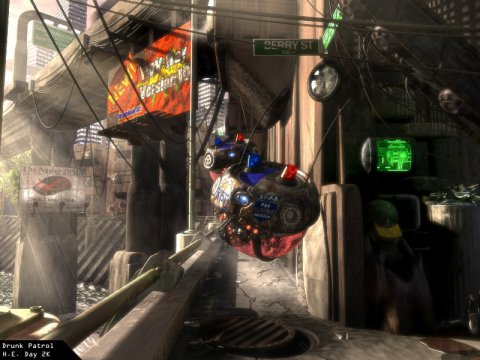 Drunk Patrol
by H.E. Day

That wasn't the ventilator. He knew that sound. Automated Patrol Droids? At least two of them. Billy had been avoiding them for days. Through his headache the noise was like a quarter million bees, all gunning for his blood. The sounds continued the increase in volume. He tightened his grip on the wrench, and shifted his body slightly. And knocked over a quarter-filled bottle of booze. It tingled loudly, but not loudly enough to be heard over the droning of the APUs. Mentally cursing his luck, and loss of lubricant, Billy curled into a ball and hoped they wouldn't find him. A shadow passed over the spilt booze …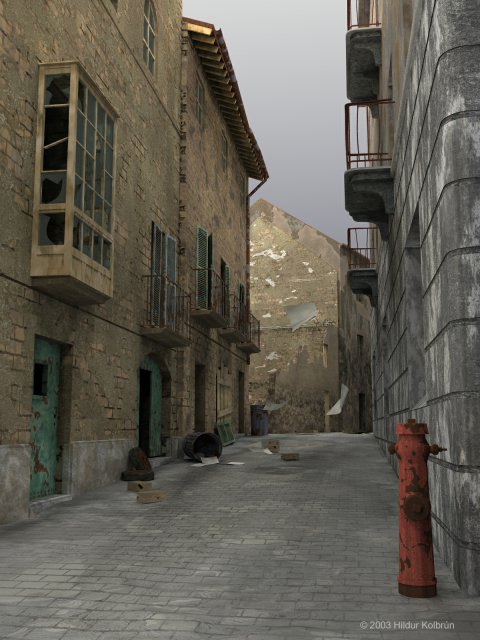 Forgotten Neighbourhood
by Hildur Kolbrun Andresdottir

This image was created for the IRTC's Decay round, showing architectural decay using POV-Ray's multi layered procedural textures and lit with radiosity without using a traditional light source.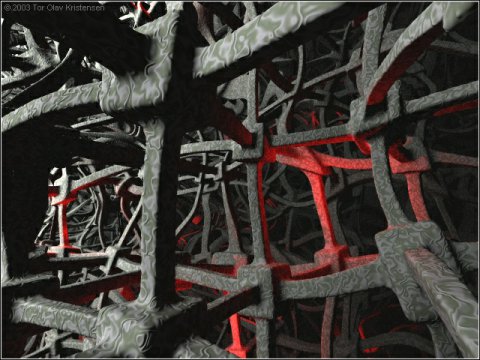 Non-Cubic Space Division
by Tor Olav Kristensen

M.C. Escher's "Cubic space division" ("Kubische ruimteverdeling") lithograph from 1952 inspired me to make this image. The shape of the cross sections of the "bars" in this image is formed by the function for a superellipse. And the cube-like shapes at the intersections of the girders are formed with the function for a superellipsoid. I "disturbed" the 3-dimensional grid by using a function that rotates the shape according to 3 noise functions; one for each of the x-, y-, and z-axes. I wanted all the shapes to be joined smoothly, so I added the functions for the "bars" and the "cubes" with the help of a "blobbing" function; the Sigmoid function. The Sigmoid function has a S-shape that is similar to the shape of the tanh() function. Here are two relevant links: [1] [2].
Toroidal Noise
by Tor Olav Kristensen

This image is a result from my early experiments with isosurfaces. It shows a single isosurface shape. The chaotic "forest" in this image is formed by giving 4 different noise functions as arguments to a torus function. The fourth function, which is given as the minor radius to the torus function, also controls the colour of the pigment. (The major radius is set to a constant value.)
Alchemists Laboratory
by Jaime Vives Piqueres

Entry for the IRTC, "Fantasy" round.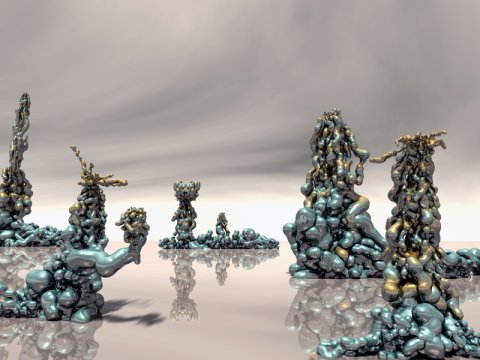 BL Object 5
by Douglas Eichenberg

An algorithmic blob study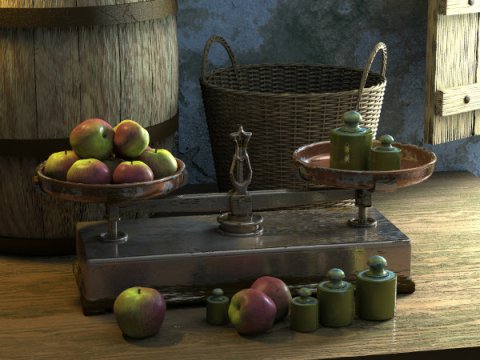 Balanza
by Jaime Vives Piqueres

Classical stillife with apples and scale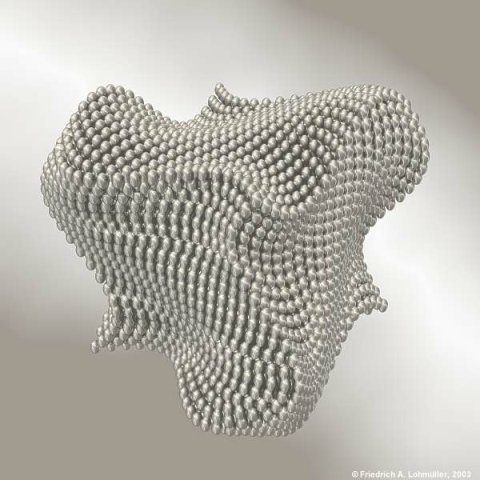 Dancing Cube
by Friedrich A. Lohmueller

A cube of rhythmical dancing blobed silver spheres. For an animated variation of this scene view my animation pages.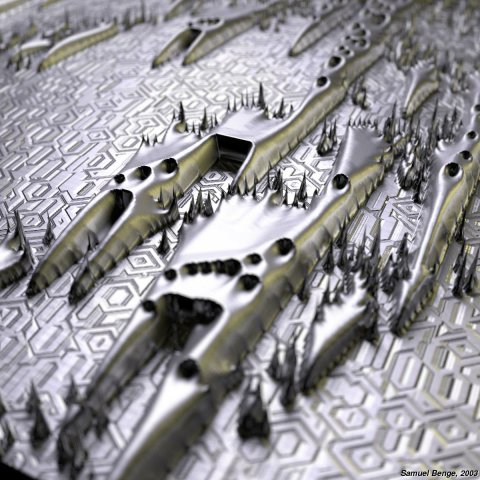 Techno Garb
by Samuel Benge

A cellular automatation simulation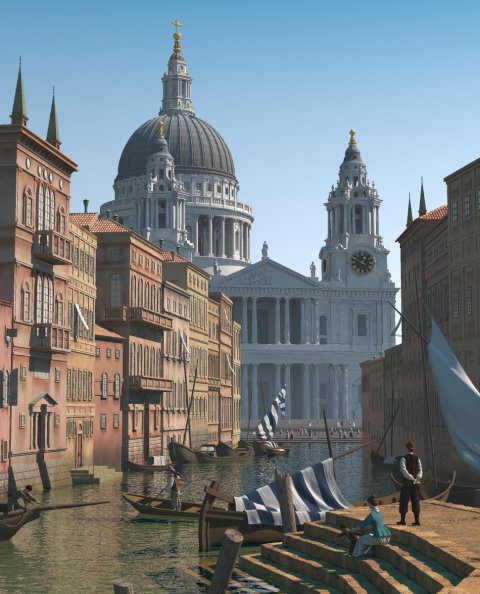 Capriccio
by Gena Obukhov, Ib Rasmussen, Jim Charter, Txemi Jendrix, Peter Hertel, Matti Karnaattu, Bob Hughes, Christoph Hormann

The attempt to create 3D version of the painting by William Marlow. This is a collective project initiated in March 2003 and which involved people from different countries.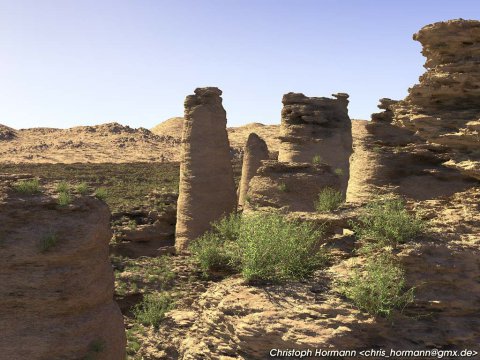 Eroded Crags
by Christoph Hormann

A jagged desert landscape. This image is used as an illustration in the german computer magazine c't.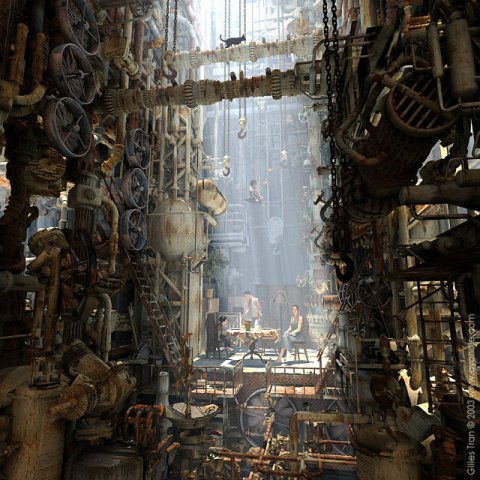 Family (day version)
by Gilles Tran

Poser characters, lots of meshes and CSG (including the makepipe macro). Exists also in a night version and as a 360° panorama.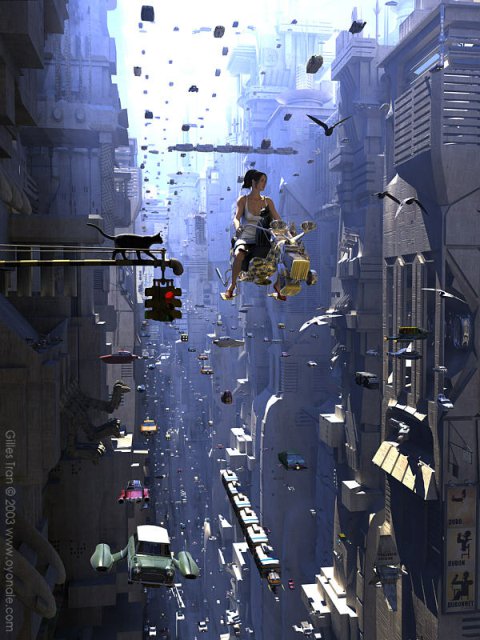 Main street (blue)
by Gilles Tran

Poser characters, cars and buildings modeled in Wings3D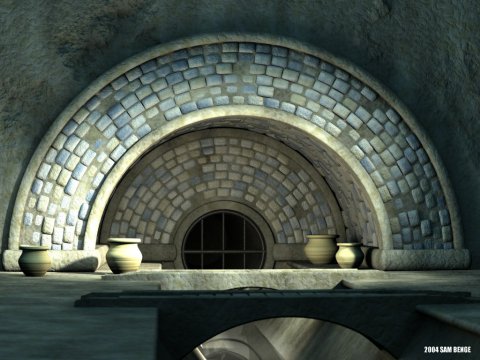 Indoor Aqueduct
by Samuel Benge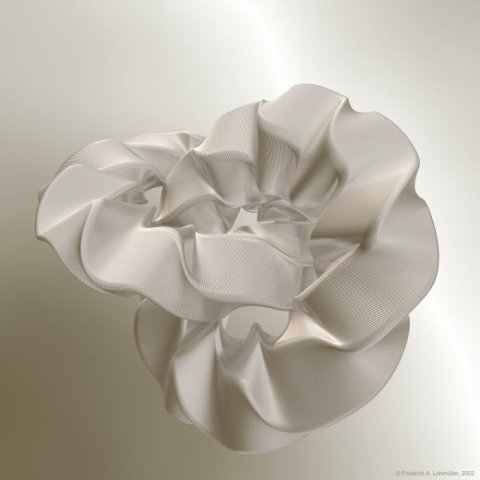 Think and feel!
by Friedrich A. Lohmueller

A silver duo of twisted rings.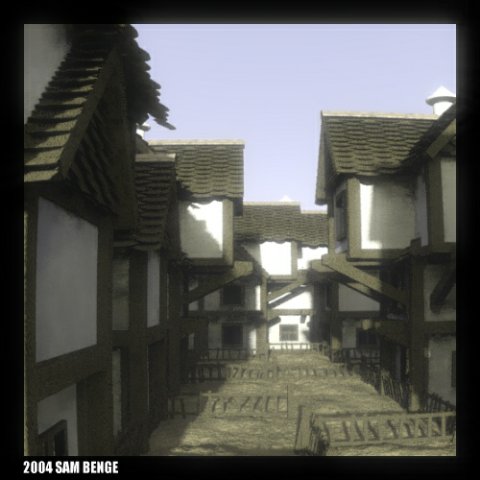 Raytraced color bleeding
by Samuel Benge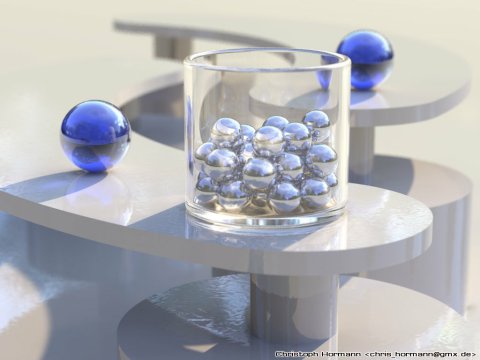 Marbles
by Christoph Hormann

A jar filled with metal marbles. Lighting using HDRI.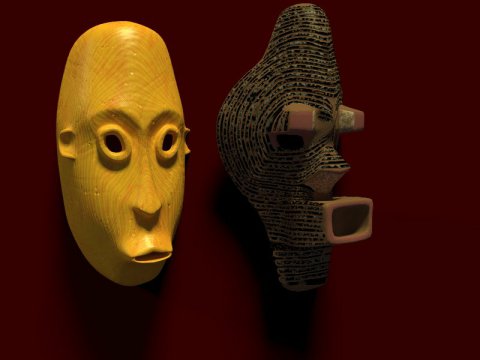 African Masks
by Jim Charter

African Masks: from Zimbabwe (near) and Dem Rep Congo, Songye tribe (far)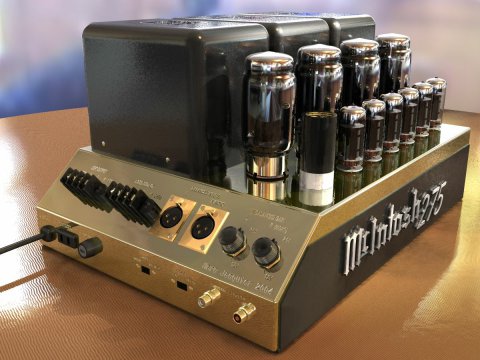 A McIntosh in the Kitchen
by Marc Jacquier

A famous (and expensive) tube audio amplifier modeled with Moray and rendered with mlpov using the kitchen HDRI probe.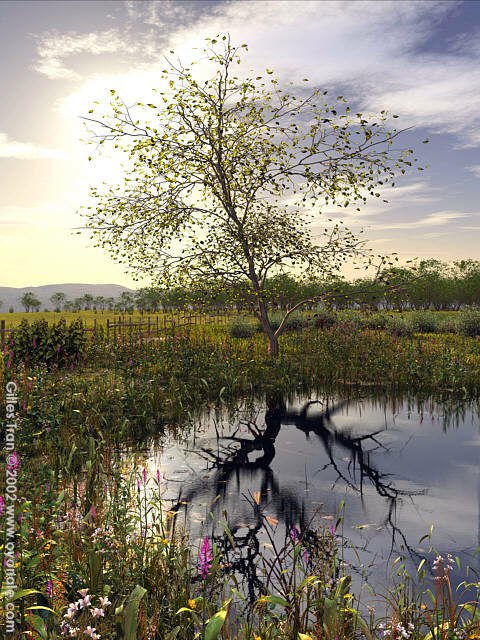 The Dark Side of the Trees
by Gilles Tran

Xfrog trees and plants.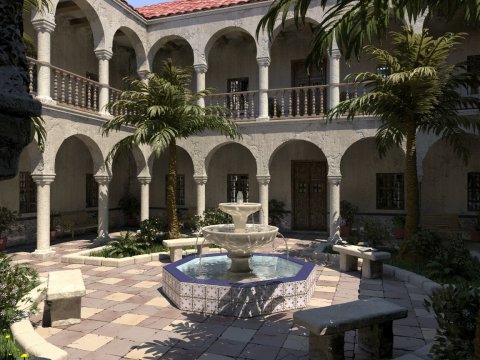 Patio
by Jaime Vives Piqueres

Spanish patio created from memories of similar places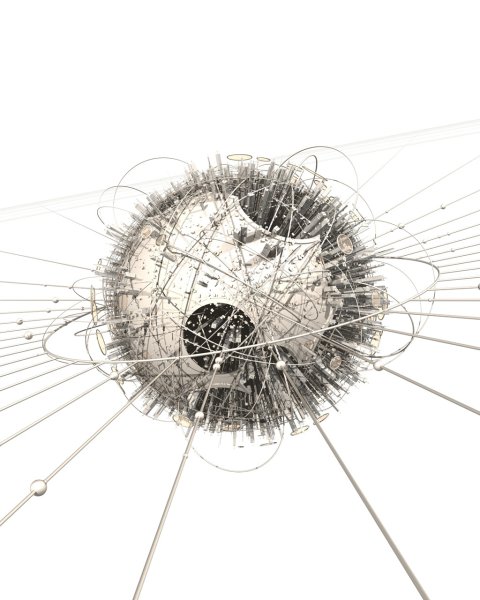 POV Planet
by Casey Uhrig

POV Planet was inspired from the transformers home panet of cybertron and the idea of a totally robotic civilisation.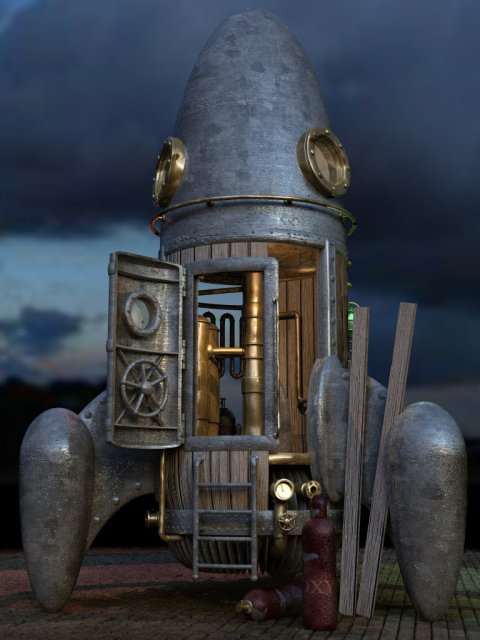 Rocket
by Jochen Diehl

Some of today's greatest inventions were just dreams people used to laugh about some time ago.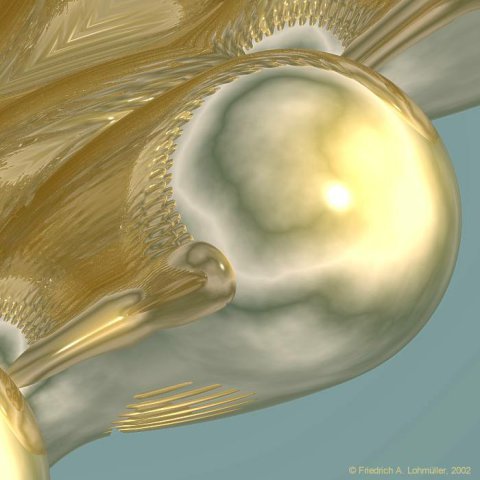 Hyperboloides 4
by Friedrich A. Lohmueller

It's a detail view of the reflections on a blob hyperboloid.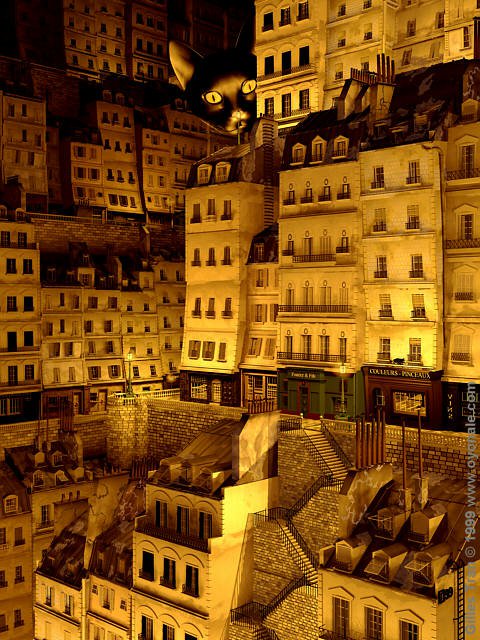 Mouseless
by Gilles Tran

Poser cat and CSG-built buildings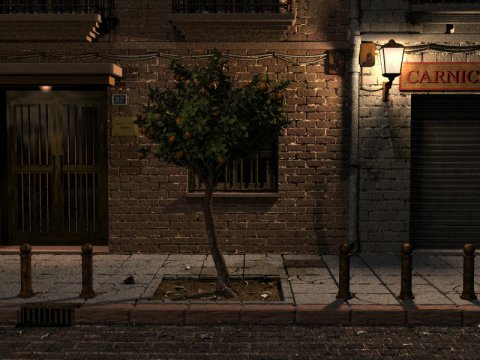 Urban Tree
by Jaime Vives Piqueres

Entry for the IRTC, topic "Gardens". I expended about 2 seconds to arrive to the conclusion that more than 2 or 3 of my trees on the same scene, is too much for my RAM and/or patience. So, I needed a good excuse to use only a few… the solution arrived later, when I finished my job and walked to my car, parked some streets away, just in front of a lonely orange tree on the sidewalk. I know it's not a "real" garden, but what is a garden? Just that but with much more terrain and plants, isn't?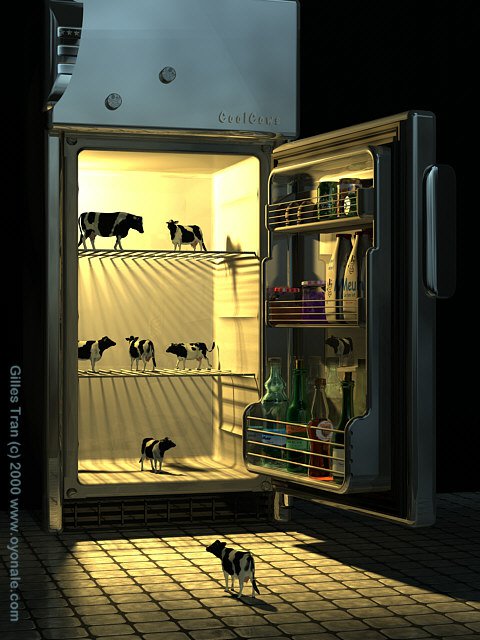 The Cool Cows
by Gilles Tran

Poser cows and lots of CSG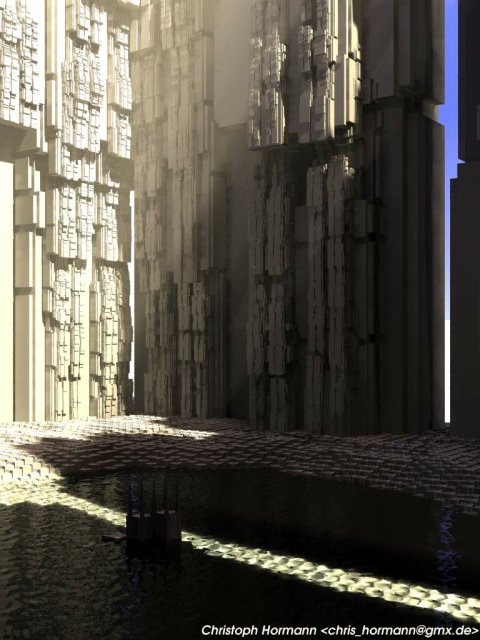 Walls 2
by Christoph Hormann

High walls with rectangular structured surface surrounding a water pool.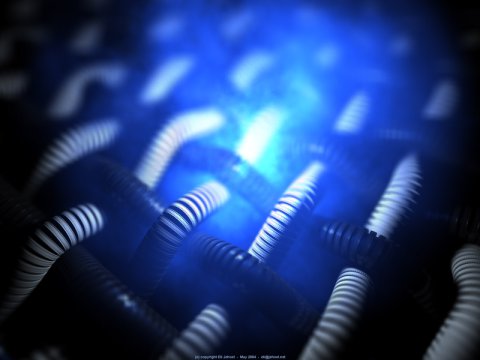 Glow
by Eli Jehoel

(technical): I used splines for the tubes/wires and media for the glow. High-quality focal blur with low-quality area light. The render took at about 1 month on a powerful FreeBSD machine. I used POV-Ray 3.5 and had it running a lowest priority (nice -19). (non-technical): A blueish glow over several patterned tubes.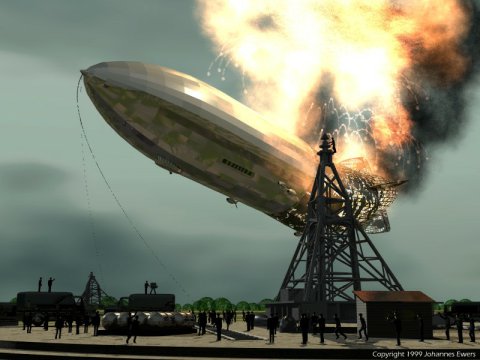 Lakehurst Disaster
by Johannes Ewers

Winner of the March-April 1999 round of the IRTC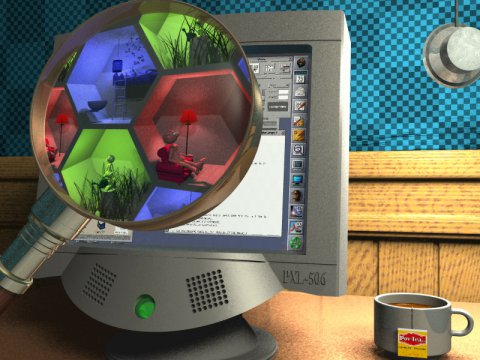 Roger, Gary and Bob
by Jean-Marie Haerens and Fabien Mosen

When you were young, you've been told that color screens worked with a lot of little phosphorescent red, green and blue elements, and that a cathodic ray was scanning repeatedly the screen to quickly lighten the little things. You grown up, and it's time to tell you the truth : let me introduce to you Roger, Gary and Bob …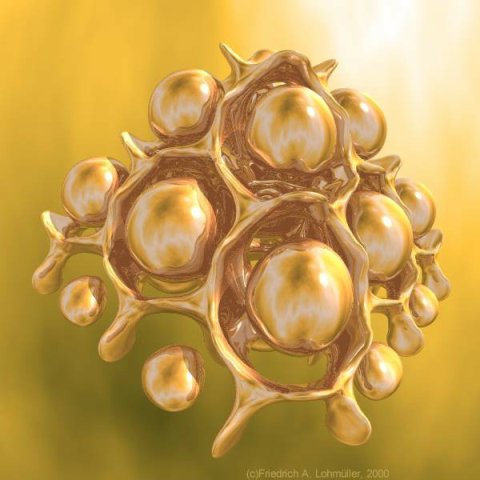 Golden Mutation 2
by Friedrich A. Lohmueller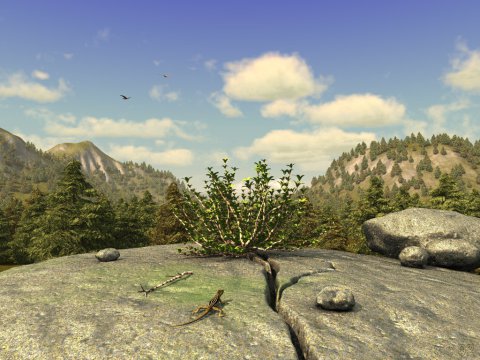 The Lonesome Bush
by Christoph Gerber

Made for the IRTC (topic "loneliness"). Trees are made with Forester Arboretrum by Stephen Dartnall, sky with stsky.inc by Jaime Vives Piqueres, bush with maketree.inc by Gilles Tran.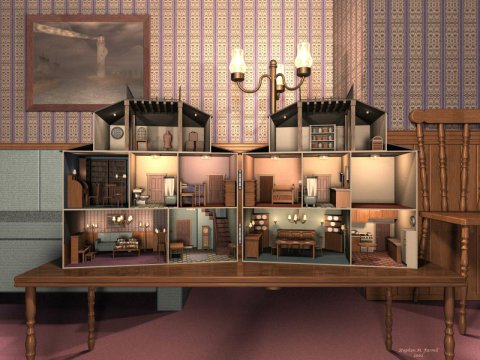 Small World
by Stephen M. Farrell

A dollhouse within a dollhouse within a real house… meant to represent the world of a young girl's imagination that exists within the real world.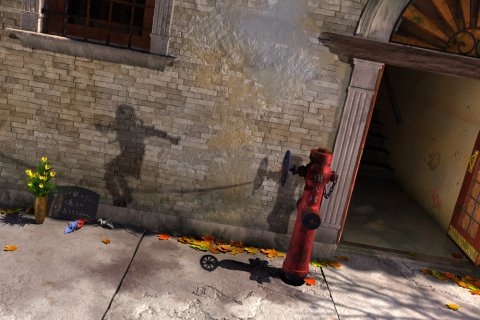 Innocent Shadow
by Mark Slone

Produced for the "Frozen Moment" round of the IRTC, this image depicts the shadow of a young girl emblazed on a wall from the blast of the atomic bomb detonated over Nagasaki Japan, August 9th, 1945.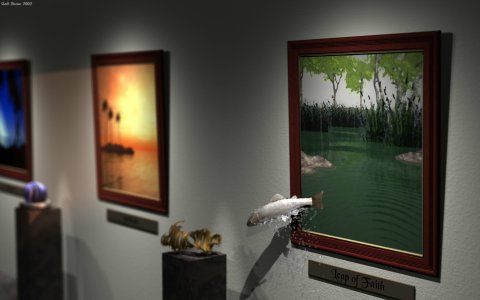 Realistic Painting
by Gail Shaw

An art gallery where the pictures are a little more real than usual.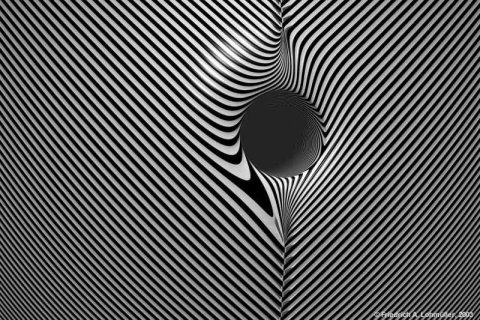 Synthesis
by Friedrich A. Lohmueller

The meeting of upward and downward tendencies. Out of the serie of psychedelics op-art.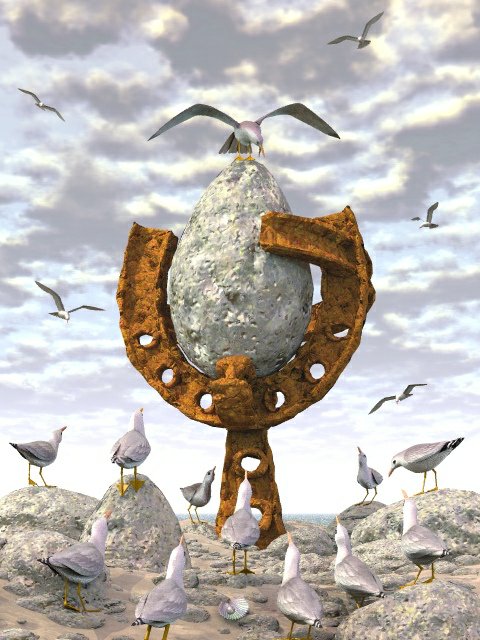 The Preacher
by Mick Hazelgrove



:3d realism, blender, maya, photorealism, photorealistic 3d, photorealistic render, Pov-Ray, PovRay, virtual 3d render