Tag: brett rogers
by Admin on Jan.05, 2010, under MMA Fighters and Boxers
Unfortunately, I must confess I'm worried that Fedor's reign as Emperor over MMA may have ended. There is NO DOUBT that Fedor reigned supremely for an entire decade is still the King but he's not getting any younger and the Heavyweight division is turning into a Monsters'R Us division where Fedor is just a little guy not a heavyweight. At 5′11, an inch short of 6 feet and 232 lbs, Fedor is not a very big man by current heavyweight standards with fighters standing 6′5 and 265 pounds or more. How long can Fedor last against these younger and bigger fighters?


Regardless of what some fighters might say, that they got better with age, honestly, its a bunch of BS. Nobody can fight the effects of age, if a fighter is actually better in 'old age' it means he was a major lazy ass or kind of mentally stupid in his younger days and couldn't take advantage of his physical abilities. The fighters that rely the most on their speed and agility, their reflexes in avoiding getting hit, will be much more adversely affected by age than those 'tough' fighters that rely on pure strength and power and a tough chin. This is a physical law of nature, you can write it down….it has been proven many times over. Look at George Foreman, he had a comeback as an old guy because he was big and powerful and could take a shot from his opponents, but if you're like poor Mirko Cro-Cop who relied mainly on his lightning quick reflexes which are the first to go with age, your career will be much shorter.
The truth is though, that the rule changes over the last years in the UFC, no longer allowing headbutts, kidney shots, kicking a downed opponent to the head, neck chops, and all kinds of barbarities, has tilted the sport a little more in favor of the man with a brain instead of the scary mindless brutes and maniacs. Back in those days, those naurally born 'tough' guys with thick skulls had a much easier time against anyone who tried to play wrestling with them, if you dove for their legs they'd just elbow you in the spine and break you in two, if your face was at any time within reach of theirs, they'd headbutt your face into a powder, or they'd pick you up and slam you on your head, you can't really win against someone much more physically superior in a pretty much no rules fight.
Luckily for the not so tough but 'smart' fighters out there some of these new civilized rules came to the rescue thus making grappling and 'brains' much more useful in a fight, but go out in the 'real' world and you'll see it's not the 'smart' guys beating the crap out of everyone, it's still the bigger dumber bullies. I'm not saying an mma fighter would not do great in a real street fight but what I'm saying is that they'd have a much harder time with tougher stronger opponents even if they're more skilled. Let's say if they're so good they usually beat guys 30 pounds heavier than them in the ring with those rules, I'm saying that those extra 30 pounds might be a little more than they can handle in a street fight where if you get slammed once you might never get up.
Now tell me, who would you rather face in an alley, Fedor or the 35 pound heavier 265 lbs monster Brett Rogers?

I wouldn't want to fight either of them, but if I had to choose I'd definitely rather fight Fedor, probably since he's such a cool guy he'd likely forgive whatever I did to tick him off so much and let me live. Well that and I'm sure I'd have a much better chance than to fight a no rules streetfight with a monster that I probably couldn't hurt even with my strongest punch even if somehow I could reach his 6′5 high face against his 10 inch reach advantage! What the heck could you try against such a monster, tickle him to death?
Leave a Comment
:brett rogers, Fedor, Fedor knocks out, fedor KOs Brett, fedor should retire, KO'd by fedor, red devil team, retire
more...
by Admin on Jan.05, 2010, under MMA Fighters and Boxers

After watching the Brett Rogers vs. Fedor Emelianenko fight I couldn't help but feel really ticked off at the quick stoppage by Big John. It was obvious Brett Rogers was not all that hurt but seemed to decide he wanted to 'quit' without the shame of tapping out, he wasn't so hurt that he wasn't unconscious so that he couldn't think or block and defend himself, overall it seemed cowardly. Brett Rogers enjoyed handing some punches to the about 35 pounds smaller Fedor who took them like a man, but when his turn came he didn't have the guts to tap out or verbally quit and waited for the referee to save him. Perhaps he knew he was the network's 'guy' and they would do everything in their power to help him win and to save him from any real damage. I think the quick stoppage was an insult to Fedor.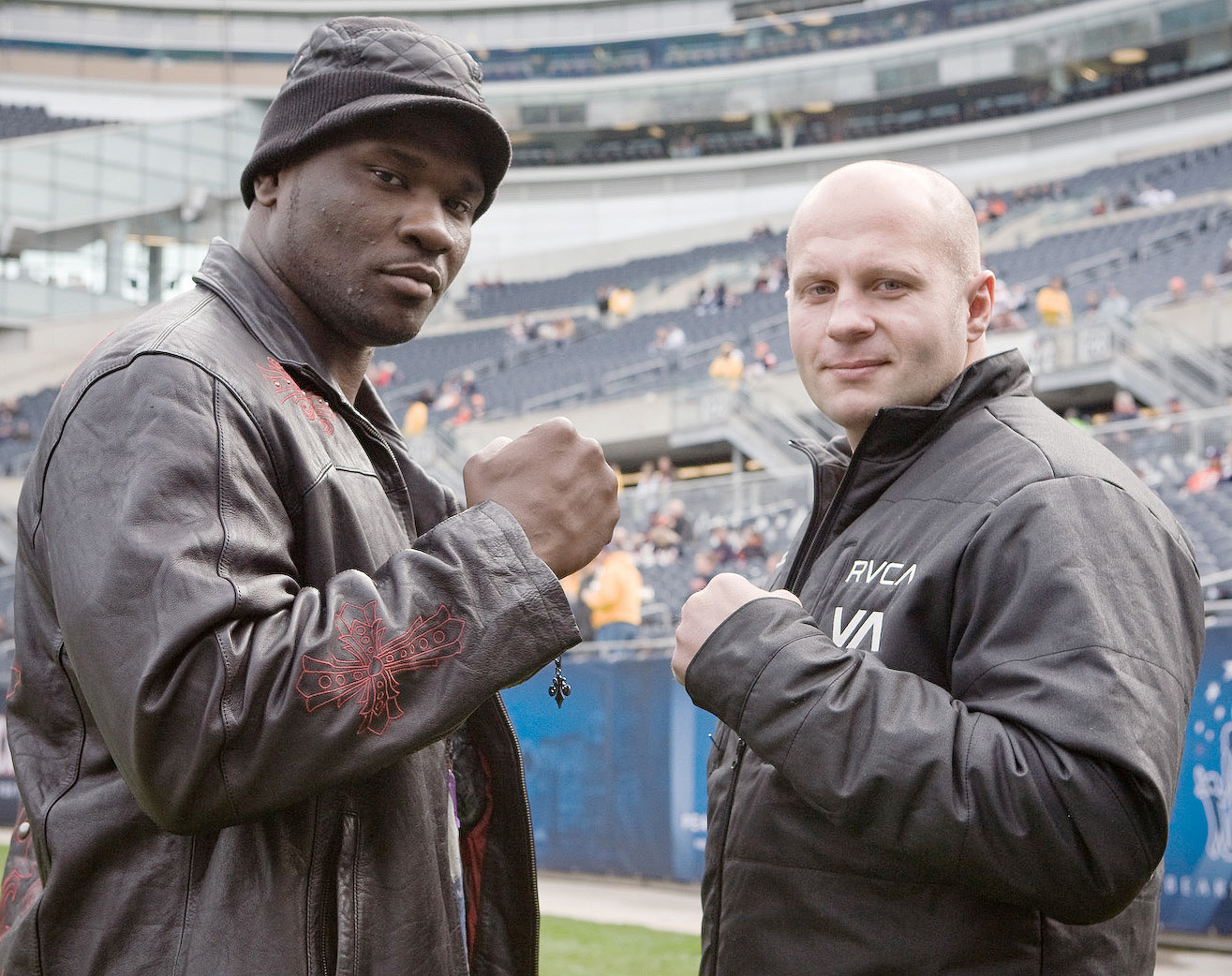 Fedor deserved a second or two more to leave his calling card and force Brett to verbally submit, tap out or have his team throw in the towel for him. Of course, if Brett was really completely out of it, we would all have agreed with the ref stepping in so quick and in fact Fedor himself being the kind guy that he is (maybe too nice, if you see the Fedor vs. Mark Coleman fight when Coleman brought his young daughters to watch, Fedor obviously had pity and went easy on him when Coleman was just hanging on to his leg he could of really punished him) would have had mercy stopped the onslaught without the need for a ref to step in. I'm quite convinced though that those putting on the show would have loved to crown Brett Rogers the new champion and I bet that a lot of people may have lost quite a bit of money on bets they placed against the 6-to-1 odds they fabricated. The high odds against Brett Rogers winning were quite absurd, there was no reason Brett Rogers should not have been seen as the 'favorite' to win this match. He is younger, just as fit as Fedor and has a tremendous 7 inch reach advantage and 32 to 35 lbs of extra muscle and power. Not only that but the undefeated (in 10 fights) Brett Rogers had finished off Andrei Arlovski much easier and quicker than Fedor was able to do, all of these facts should make you realize there were many rich fat cats salivating at the mouth in anticipation of Fedor losing this fight.
Here's the Brett Rogers versus Fedor Emelianenko full fight:

Leave a Comment
:brett rogers, cbs fight, fedor emelianenko, fighter, heavyweight, m-1 global, m1, mma, strikeforce, ufc, world champion
more...