Tag: iphone
by Admin on Apr.13, 2011, under Linux Unix Stuff, Local News, Tech and Gadgets
I'm kind of amazed at how so many people bought into the stupid technology talks behind Apple and Steve Job's decisions. The superiority of one technology over another has absolutely nothing to do with their decisions against Flash or Java or Admob or anything else they've gone against.
It's purely about creating a monopoly and killing the competition. Just think of it, if they allowed Adobe Flash or JAVA on their iPhones, tons and tons of Games and Applications could be run from INSIDE a Browser, no need to pay Apple to put an App in their App store. By simply killing Java and Flash, Apple has prevented millions of browser Apps from doing business as usual, as on the Desktop, through web browsers. In one easy stroke of the pen, everyone must know pay Apple to get on their App store and keep giving Apple a good percentage of their profits. Now they can force all those online content providers to go through them on the App Store to reach their customers on the iphone or iPad.
It's brilliant! Isn't it!? That's why Steve Jobs gets the big bucks!
1 Comment
:android, app store, apple, apple monopoly, apple store, ipad, iphone, steve jobs, steve jobs hates flash, steve jobs hates java
more...
by Admin on Jan.11, 2010, under Google Voice, Tech and Gadgets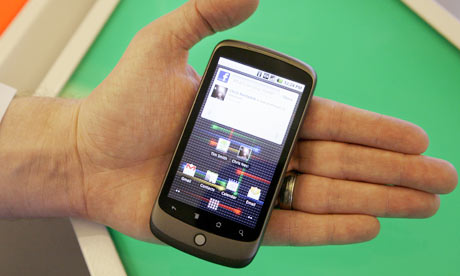 Engadget reports that some prototype European Google Nexus phones in Germany have multi-touch pin and zoom features. The current US Google Nexus one phone lacks multitouch features found on the iphone.
One thing to note, the Google Nexus One does have haptic feedback which is missing on the iphone. Haptic feedback was introduced by HTC on the HTC Touch Pro and some other HTC Windows Mobile phones. On the HTC Pro and other Windows Mobile models, touch feedback was usable in games for a much more immersive experience, making the player be able to really feel, for example, like a ball is actually rolling around on the phone and bouncing off the sidewalls.
Will the iphone get haptic feedback before the US Google Nexus gets multitouch?
Interestingly, supposedly the Google Nexus One (sold at $529 unlocked without subscription plan and $179 with a two year subscription) has about $175 worth of hardware parts inside. How much more would a multi-touch screen add to the cost?
Leave a Comment
:Google Nexus, Google Nexus One, HTC, iphone, nexus, nexus haptic feedback, nexus multitouch, Nexus One
more...