Tag: ufc
by Admin on Jul.03, 2010, under MMA Fighters and Boxers
Sometimes fights are quickly lost due to bad tactics or a terrible split second mistake. It was interesting to hear that Fedor was the one consoling the rest of his demoralized team-mates after his defeat. He said he was very very sorry to let any of his fans down, but that he is just a normal human not anything special and can lose a fight just like anyone can. He said if its God's will he will win the next one.
This was the real reason I've always had so much respect for Fedor Emelianenko, sure his pretty much perfect record until his match with Fabricio Werdum helped but I never considered him to be invincible or superhuman or stronger/tougher than everyone else. I thought Fedor was a very intelligent fighter, and that's what made him so successful. Yet as even King Solomon had his blunders, now so does Fedor. He underestimated the physical strength in my opinion of Fabricio Werdum compared to Minotauro Nogueira.
I clearly remember cringing and being very nervous for Fedor in his fights against Minotauro Nogueira as he seemed to be unaware of the existence of the 'triangle choke'. Later I figured out that he wasn't concerned because he felt much stronger physically and could power out at will. In fact, I forget the entire quote, but Minotauro himself said, "I will never be as strong as Fedor.."
Perhaps Fedor is a little bit weaker than he was in his prime when he fought Minotauro, regardless of the BS from some old (over 40) fighters that they're better than they ever were in their prime, I think many will tell you they feel a pretty big difference even one year away from their prime…there is a big fall-off that seems to happen and then a bit of a plateau for a couple more years before another big falloff, perhaps following natural body testosterone and growth hormone levels. This aging process not only makes a fighter less agile but weaker and not able to exercise at the same high intensity as before, not only that but they can no longer take a punch as well as before, and can not recover as quickly. Not to say a fighter can't be much better in their forties than they were in their twenties if they had no brains back then…
So Fedor lost due to fight tactics that weren't fixed to compensate for an opponent he could not easily physically overpower, and also because of that split second mistake he made right before the lock, the split-second hesitation as he put it….had his corner fixed his tactics he would not have to worry as much about such split second mistakes anyway….
So why does Fabricio Werdum owe Minotauro Nogueira? Simple, he obviously had the advantage of watching those fights and may have realized he could catch Fedor in a triangle choke if Fedor fought the same way. With only a minute into the fight there wasn't much sweat to make submissions more difficult either. I even wonder if Fabricio purposefully tricked Fedor into coming down for an early ground and pound by feigning being hurt and letting himself go down to lure Fedor in to his game when he was in full control of his faculties. Perhaps it was all planned ahead of time, perhaps he got lucky it just happened that way and he was smart enough to make the right move to lock in deep in the split second Fedor hesitated which way to move. Fedor himself after the fact admitted that his hesitation proves he needs to practice his ground game some more so it becomes natural 'instinct' again not requiring any thought…a good observation.
Personally, I think Fedor should try to avenge his loss to Fabricio Werdum and then retire. There's no reason he should keep on fighting, there's a new breed of heavy weight fighters these days and he's just too small. Sure, we'd all watch and cheer him on but why risk his health anymore fighting guys with over 30 pounds of muscle more than him? Especially being past his 'prime' and yes I definitely believe he is past his prime, he should try to avoid fights with guys bigger than him unless he has the advantage in experience/skill 'and' something else (such as if he's smaller but equal in strength, or if he's faster, or if he has a much better chin than the big opponent..). Otherwise, if one goes into a ring against an opponent who is naturally much bigger, has a much longer reach, a tougher chin, and just as good stamina due to younger age, it will be very hard to beat them barring their lack of brains/skills etc…I think we are beginning to see some very athletic 'big guys' at 265 lbs, and I don't mean fat/obese amateur fighters, but these new naturally huge 265 pound fighters with a 7 or 8 inch reach advantage!
Teach one of these behemoths how to kick like Ernesto Hoost or other muay thai kickboxers and better have those stretchers handy for their one legged opponents. (…having been at 265lbs or more for many years, their bones, shins and all will be much stronger than other fighters'…black fighters in fact generally have a higher bone density than all others, medical data shows native indians coming in second followed by mexicans…many Brazilians I'd venture have better bone density than whites also…anyway I digress…but the point is once these big guys with super skeletons learn to kick decently it will be very hard for someone 40 or 50 pounds lighter to deal with them.)
As far as I know heavyweight scale right now is 206 lbs to 265 lbs and some organizations do not even have an upper limit… PrideFC had some very entertaining fights between huge 350 lb guys like Bob Sapp and 5′9″ Minowa the 194lb 'Punk' and others much smaller than him. It's too bad there seems to be no place for really huge guys over 300lbs in the UFC. Personally I think we need more weight classes to make things more fair for those who are around 220lbs and those around 230lbs, and having super heavyweight 265+ so this way these big 265 guys can get some return karma when they start facing guys 300+
Now getting back to these new 265 pound fighers, I think that Alistair "Demolition Man" Overeem is a very dangerous fighter right now. He completely destroyed Brett Rogers and Brett Rogers did give Fedor a run for his money with a bloody and likely broken nose. Overeem is very tall also, same height as Brett Rogers and from what I saw of the fight he looked like a guy on roids, perhaps he's never used any steroids, all the more impressive, the guy is huge. It doesn't seem that he has as thick a bone structure as Brett Rogers but that means that at about the same weight he will be much stronger than Brett and can easily man handle him in wrestling/grappling to ground and pound.
Fabricio Werdum is only an inch shorter than Overeem but will likely still be clearly out-powered by the Demolition Man unless Fabricio decides to bulk up and if he can build it with all muscle not belly fat. One thing I've realized with many of these Brazilian fighters is that they seem to be pretty good at taking a punch…if so, it might be worth it for Werdum to try a little chute boxing and leg kicks on Overeem and try a couple a shots to his chin when he tires him or his legs out and then go for a submission. But to wrestle with Overeem right off the bat will be very tough…
Fedor will probably continue to be my favorite heavy-weight mma fighter but I think at 5 feet and 11 and a half inches (and 229 lbs), not truly even 6 feet tall as some stats list him, he is too small of a frame to face the new generation of agile/nimble 265 lbs decently skilled fighters emerging.
I wrote before an article "Will CroCop ever get a fair fight in the UFC?" explaining why I thought Mirko Cro-Cop's time for fame was gone…that he was especially too small of a guy and also couldn't take a punch too well so when he lost his biggest asset, the explosiveness of his kicks, he could not stay at the top of the game due to a lack of grappling/submission skills also…with age, explosive reflexes are first to go…and CroCop relied too much on his explosiveness, his speed…
My Original post on this subject I had started on the Matt Hughes forum, it was entitled something like "There's no Justice over 205″ see http://thefullenchilada.com/newstuff/theres-no-justice-above-205-the-ufc-badly-needs-a-new-225-230lbs-weight-division.htm I don't think it's on the Matt Hughes website any longer though…
Best luck to Fedor in his next and last fight on his contract…and if he decides to continue fighting and take on these new huge monsters I'm sure just about everyone will be rooting for him, the David against these Goliaths…long live the king, long live the last emperor.
Leave a Comment
:Dana White, Fabricio Werdum beats fedor, Fedor, fedor emelianenko, fedor loses fight, Fedor lost, Fedor taps out, Fedor the last emperor, perfect record, Strikeforce 2010, Strikeforce Fedor, Strikeforce Fedor vs Werdum, Strikeforce M-1 Global, ufc, UFC strikeforce, ultimate fighting championship, unbeaten, undefeated
more...
by Admin on Jan.05, 2010, under MMA Fighters and Boxers

After watching the Brett Rogers vs. Fedor Emelianenko fight I couldn't help but feel really ticked off at the quick stoppage by Big John. It was obvious Brett Rogers was not all that hurt but seemed to decide he wanted to 'quit' without the shame of tapping out, he wasn't so hurt that he wasn't unconscious so that he couldn't think or block and defend himself, overall it seemed cowardly. Brett Rogers enjoyed handing some punches to the about 35 pounds smaller Fedor who took them like a man, but when his turn came he didn't have the guts to tap out or verbally quit and waited for the referee to save him. Perhaps he knew he was the network's 'guy' and they would do everything in their power to help him win and to save him from any real damage. I think the quick stoppage was an insult to Fedor.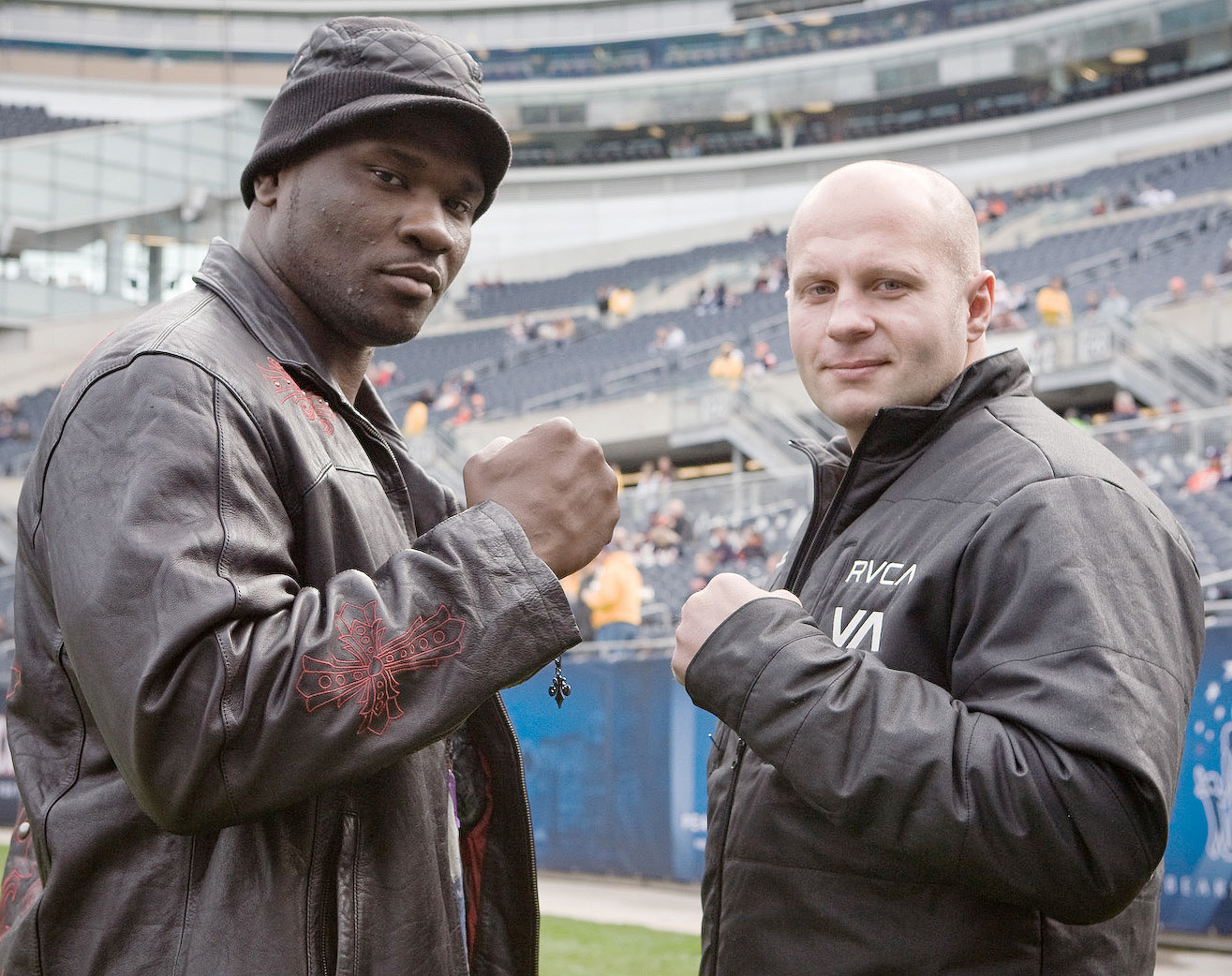 Fedor deserved a second or two more to leave his calling card and force Brett to verbally submit, tap out or have his team throw in the towel for him. Of course, if Brett was really completely out of it, we would all have agreed with the ref stepping in so quick and in fact Fedor himself being the kind guy that he is (maybe too nice, if you see the Fedor vs. Mark Coleman fight when Coleman brought his young daughters to watch, Fedor obviously had pity and went easy on him when Coleman was just hanging on to his leg he could of really punished him) would have had mercy stopped the onslaught without the need for a ref to step in. I'm quite convinced though that those putting on the show would have loved to crown Brett Rogers the new champion and I bet that a lot of people may have lost quite a bit of money on bets they placed against the 6-to-1 odds they fabricated. The high odds against Brett Rogers winning were quite absurd, there was no reason Brett Rogers should not have been seen as the 'favorite' to win this match. He is younger, just as fit as Fedor and has a tremendous 7 inch reach advantage and 32 to 35 lbs of extra muscle and power. Not only that but the undefeated (in 10 fights) Brett Rogers had finished off Andrei Arlovski much easier and quicker than Fedor was able to do, all of these facts should make you realize there were many rich fat cats salivating at the mouth in anticipation of Fedor losing this fight.
Here's the Brett Rogers versus Fedor Emelianenko full fight:

Leave a Comment
:brett rogers, cbs fight, fedor emelianenko, fighter, heavyweight, m-1 global, m1, mma, strikeforce, ufc, world champion
more...